18th March 2019, Malmö Sweden
I often get this question…
"How did you come to Malmö Sweden?"
___
By Jeffrey Scott Brown
INTRODUCTION
    In seven years since I started running South Plains Brewing Company the one question that comes up over and over in every tasting, every beer festival, every presentation I do, one of the very first questions is always "How did you come to Sweden"  people can't imagine how I could have left San Francisco and end up running a brewery in Malmö Sweden.
My life in San Francisco
   After I finished High School near Santa Barbara I packed up and left for the big city San Francisco. At an apartment on Potrero Hill and later across the street from Dolores Park. Fast forward many years later I was working at the Oakland Airport for Emery Air Freight, I was married to my first wife Pilar, she was from Barranquilla Colombia. I had a house in Pleasant Hill and I was an avid homebrewer boiling up vat's of wort in my backyard, filling Coca Cola canisters and serving them on tap and an old refrigerator in the garage.
After 10 years of marriage me and Pilar split up and later I hurt myself at work and was on disability. I ended up getting the house and with it a very large house payment.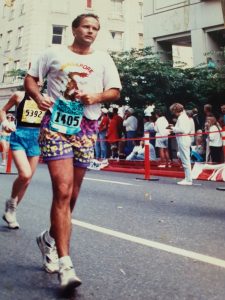 I had to rent out rooms just to make my payment every month because the disability checks were small. I felt that something had to change but I wasn't sure exactly what I could do. Photo right is of me finishing the Portland Marathon in 1990.                            
A New Hope
I've always been a great cook, even at 5 years old I won the apple pie contest at Harding Elementary School in Bakersfield California although my mother had sat and told me what to do, I did it all myself.

My grandmother, I called her Nanna, was a wonderful self-taught cook, really I think of her as a chef and we did everything from making our own sauerkraut, to canning fruits and vegetables, curing salmon, to just cooking and baking every kind of bread, dessert and meal you can think of.

My stepfather Jerry Beechly also was just a fantastic chef. He trained me to do all kinds of things. We would organize big parties for all of his friends in the Air Force. We would create these gourmet dinner parties with seven courses. Every New Years Day we would do a traditional Southern New years Day Supper (AKA Soul Food). Then we would do Thai food or Mexican or BBQ or Italian.  We would get books and read about fabulous French cooking and things to do and try and make these recipes and we would figure it out and learn the techniques.

Then when I was in College in Santa Barbara I trained under a French chef by the name of Guy LaRoy at the El Encanto and again I learned so much from him, he was a fantastic chef. It was there I developed a passion for French Cuisine & Pastry.
   So I had been on disability for some time and I had been in talks with my attorney with the insurance company about doing what is called up vocational rehabilitation. And it's a hard thing to think about a new line of work but after I thought about it for a long time I decided I want to go to Chef School and get a proper education. The more I looked into it there were no schools in the United States that could actually give a degree in French cuisine which had become my passion after studying under Guy LaRoy. So I started researching schools in France and I came up with one in Paris, one of my favorite cities in the world and I went to visit them in early 1999. I had spoken with a Voc Rehab counselor and she had told me about no matter what I chose I had to have the school approve it so I took the forms with a to Paris, and I had them fill them out. Then when I presented my idea to the insurance company I had the papers signed by the school, it was a fight but eventually the insurance company had to give it to
 me because it was a legitimate vocational rehabilitation. I was the first person in the history of California to go abroad for a Voc Rehab.
C'est la Vie
So I made a very difficult decision to resign from my job, take the settlement, sell my house, ship enough furniture for 1-bedroom apartment and go get an apartment in Paris. Then I would start school, I would work on getting my degree and no matter what happens I could always come back. So in late 1999 I sold my house, paid part of it off to Pilar and left for Paris.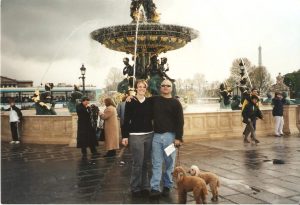 I had enough money to live a few years without working. I faced a lot of struggles and difficulties but ended up setting up my apartment, going two years at the Ecole Ritz Escoffier in Paris, getting a master's degree in French cuisine and a master's degree in French pastry.                      
A Stroke of Luck
While I was at the school I was able to do an internship in the kitchen at the Hotel Ritz in Paris. But like most young interns they wouldn't let me do anything but peel potatoes and onions. In France they have a system called 'Brigarde', which is similar to like a military rank system. Nobody goes into the army and starts out as a general everyone has to work their way up and so it is in the French kitchens. In the kitchens you start out as Commis #3 at 16 years old peeling potatoes and onions working your way up to Commis #2 over to Commis #1 and only after training for 10 years under a chef do you find it become the lowest level of Chef in a French kitchen like Chef du Garde Manger. So one day I'm working in the back and one of the head chefs Dominic Fonseca, he's the private Chef for Mohamed Fayed who also owns Harrods in London. He came to me and he said "hey Brown you're American right?" and I said yeah and he said "can you do Soul Food?" And I said "man I grew up on Soul Food". And he said come on we need you, one of the parties has ordered Soul Food and none of the chefs know how to do it. So we sat, I wrote out a menu, we had things like chicken fried steak, collard greens, black eyed peas, stewed okra, sweet potato pie, cornbread, biscuits and gravy & fresh fruit pies. I put together a menu of about 20 things and he chose 10 and I showed all the chefs how to flavor and cook everything and we put out a big buffet for a hundred people and afterwards the head of the group came and said it was some of the best Soul Food he'd ever had. I later found out the group was the Chicago gospel choir and they were all black and I'm not sure if they do that to poke fun at the French chefs or did it to see what they can do. After that night Fonseca moved me up to the Ritz club and I continued to work the rest of my time in Paris as a sous chef in the Ritz Club.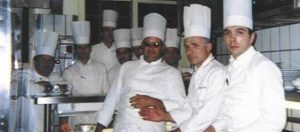 Now in the French kitchens no one speaks English and I had actually started taking French lessons before I left.  I hired a French tutor in San Francisco and the entire time I was in France I continued my French lessons. It was in French language school that I met Sacha Stefansen.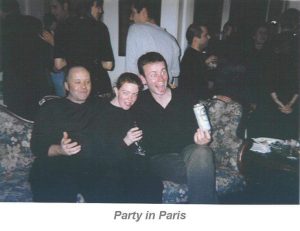 I had dated quite a bit in Paris but had never really connected with anyone. I connected with Sacha right away. This is a photo from a St Patrick's day party at my flat in Paris in 2000. After that night we became a couple.
There's Something Rotten in Denmark**
   At the end of my two years in Paris I knew I couldn't stay in France because to qualify for a work permit you have to be specialized in some type of skills and to be  specialized in French cuisine is not special in France. So I had to leave. I looked at going with Sacha back to Copenhagen. What I didn't know was Denmark was very xenophobic and it was almost impossible to get a work permit or residence permit to stay there. We fought Danish immigration for a year, they rejected the fact that we were married, they rejected my education, they rejected almost everything, they accused me of working illegal in Denmark during the time I lived in France, and after a year of fighting we decided to come and stay in Malmö, Sweden and Sacha could continue working on her Masters in Business at Copenhagen Business School. In 2002 it was very easy to come to Sweden, they immediately gave me a five year residence/work permit. I had hired another one of my Danish friends from Paris, Andreas Christensen had been a lawyer for the justice department and was in private practice now and he fought Danish immigration for me like hell but in the end we never won. He applied my case to the Danish ombudsman and they only accept about 10% of the cases, but he took my case,  and the ombudsman later ruled that almost everything Danish immigration had done to me was illegal under Danish law and EU law and that I could easily win a fight in the EU if I wanted to take it to that court but by that time I found a home in Sweden and no longer wanted to fight Denmark.
   So one of the problems when you marry a young Danish girl is she keeps getting pregnant. First with twin boys, then a girl, then another boy.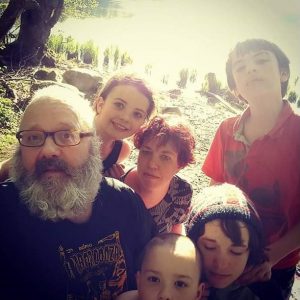 I went to Language School in Sweden and then later worked in Sweden and after 10 years of working as a chef there I grew tired of chef'n. It's hard work, you're on your feet all day, it's stressful multitasking with many things going on at the same time I had also started a catering company called Chez Jeff that I did private dinner parties, catering & wedding cakes and even though the money was really good it was just too too much work.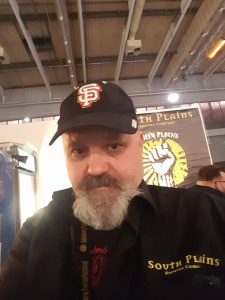 So in 2012 I took my salary, my savings, small business loans and I started South Plains Brewing Company with no investors.
And that is how I came to Sweden
*Top five photos by Joel Wiechert/Fractal Photography*
**Something is Rotten in Denmark. A line from Hamlet by William Shakespeare. The palace guard says this after seeing the ghost of the dead king walking over the palace walls.  It means 'things are unsatisfactory, something is wrong'**